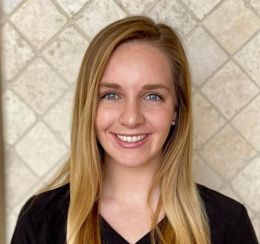 Our newest doctor has a familiar last name – Dr. Leslie Tuggey. Leslie is Dr. Jean's youngest daughter and a graduate from one of the top dental schools in the USA.
Dr. Leslie Tuggey's credentials:
Bachelor's of Science Degree, Texas A&M University – WHOOP!!! Master's Degree in Biomedical Science, University of North Texas Health Science Center, Fort Worth Doctorate of Dental Surgery, UT Health Science Center, San Antonio, School of Dentistry Both Dr. Leslie and Dr. Jean Tuggey graduated from UT Health Science Center, San Antonio, almost 40 years apart (1985 and 2022). Watching her mom build one of the premier dental practices in the DFW Metroplex inspired Leslie to follow her footsteps into the family business. Watching her mom's passion for helping people motivated Leslie to choose a career in healthcare.
Dr. Leslie joined our practice in June, 2022 and has begun the process of learning from the master – her mother! After 4 decades in the field of dentistry, Dr. Jean will work side by side with Leslie for the foreseeable future – opening the door wider into an extraordinary career in oral healthcare. The first and most important lesson, and our mission statement from the beginning: Patient First! For the next generation at this family-owned practice, our patients are in great hands!