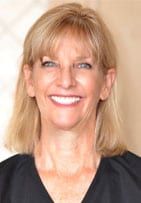 Dr. Jean Tuggey
Dr. Jean Tuggey received her dental hygiene degree from the University of Pennsylvania School Of Dentistry and worked in the Highland Park area as a dental hygienist. After three years as a hygienist, Dr. Tuggey returned to dental school at the University of Texas Health Science Center in San Antonio, completing her Doctorate in Dental Surgery in 1985. Soon after, she returned to the Dallas/Fort Worth area to begin her career as one of the first female dentists in Northeast Tarrant County.
Dr. Tuggey has successfully managed and maintained one of the premier dental practices in the area with a strong philosophy of building relationships with her patients. Trust and integrity best describe the building blocks of her practice – a concept shared by the entire support team of dental professionals at Cosmetic and Family Dentistry of North Texas.
She was awarded the Fellowship Award from the Academy of General Dentistry – a much-respected distinction that few dentists earn. Additionally, the Consumers' Research Council of America chose Dr. Tuggey as one of 'America's Top Dentists'. She was also recognized in the Texas Monthly magazine as a 'Super Dentist' and was most recently voted a "Top Dentist" by other dentists, as stated in the Fort Worth, Texas magazine.
With over 38 years in the dental field, Dr. Tuggey recognizes the importance of her obligation to stay informed and up-to- date with the latest in the field of dentistry. The entire staff regularly attends continuing education opportunities to keep up with new trends and technology in the profession.
Community service is a major focus of Dr. Tuggey and her team. Regular volunteer work at dental clinics, Mission911 and Timon's Ministries, in South Texas, benefit the underserved. In 2015, she introduced the Smile for Vets program designed to assist veterans who cannot afford dental care. Partnerships with the Miracle League Southlake, Amy's Wish for Wings and CASA for Children are some of the outreach efforts important to Dr. Tuggey and her team at Cosmetic and Family Dentistry of North Texas.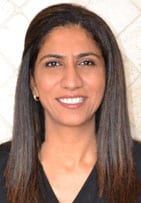 Dr. Farida F. Hirani
In a world where people are much more aware and conscious of their health,
customized dental care is invaluable. Dr. Hirani has been practicing as a general
dentist with this conviction since the last 13 years. She is passionate about her
profession because it is a powerful way of being able to make a difference in the
overall health of people.
Dr. Hirani completed the advanced standing program for international dentists at
Herman Ostrow School of Dentistry at University of Southern California (USC).
Her diligence was rewarded by her selection on the Dean's list. She received her
Bachelor of Dental Surgery degree from Nagpur University in India. She gained
valuable clinical experience and expertise in general practice dentistry, while
working with orthodontics and endodontics in India. She has volunteered in
many cleft lip/cleft palate surgical correction cases in various phases of
treatment. In addition to her repertoire as a clinician, Dr. Hirani earned honors
in human psychology.
Dr. Hirani is known for her meticulous approach and strong work ethics among
her colleagues and patients alike. She is also a highly rated team member with
excellent leadership qualities. Development of all the team members and the
organization as a whole is very important to her. She believes that the satisfaction
received while delivering comprehensive treatment to patients is the primary
driving force to do better every day.
When she is not working, she's a dedicated full time mom to her two boys and
enjoys being around family and friends.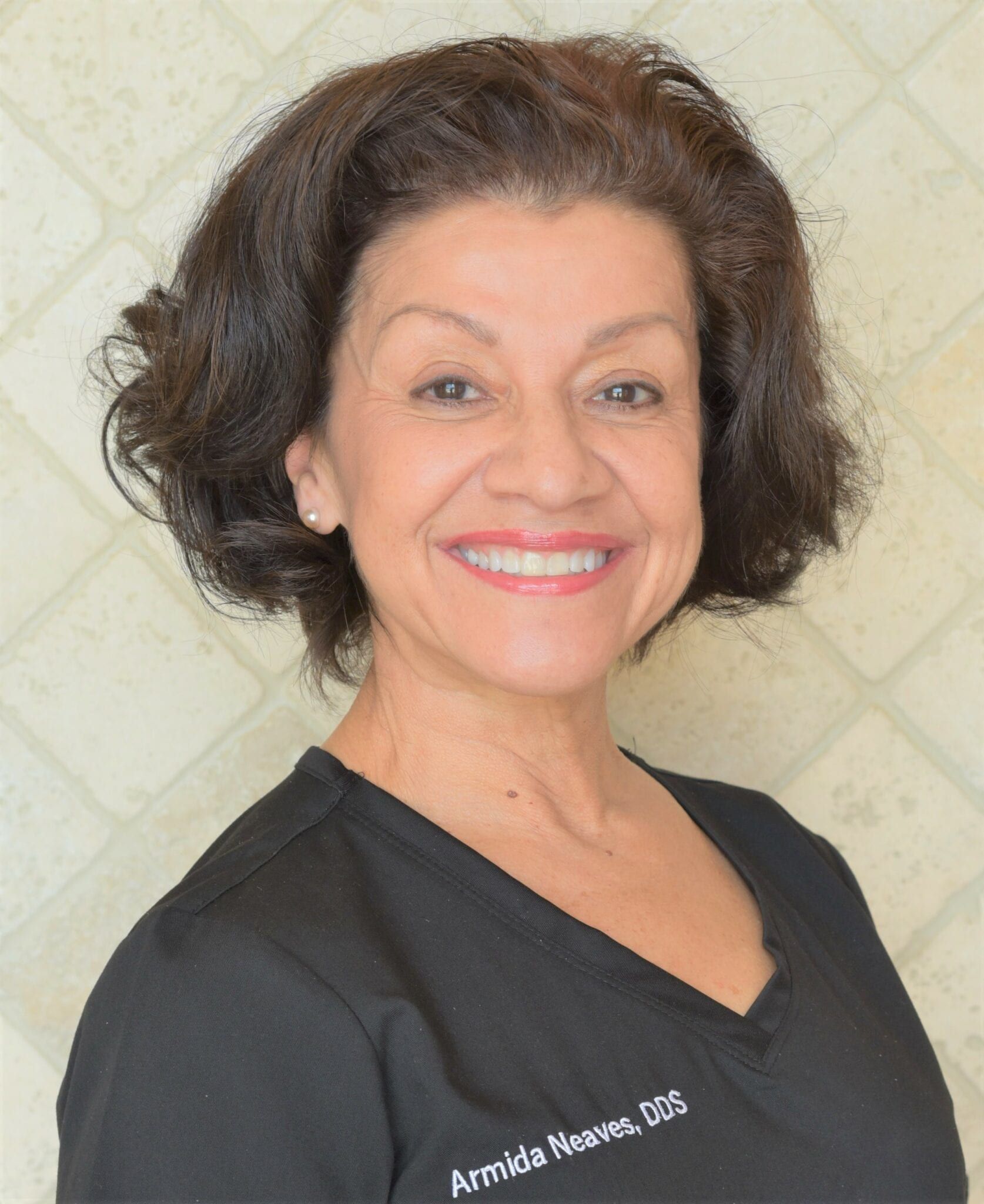 Dr. Armida Neaves
Dr. Tuggey is pleased to welcome another pro to our team! A lifelong Texas resident, Dr. Armida Neaves knew at a very young age that she wanted to be a dentist. She fulfilled her dream and graduated from Baylor College of Dentistry, Dallas in 1988. She has practiced in the Dallas/Fort Worth area since then and enjoys all aspects of dentistry. Dr. Neaves has extensive training and experience with endodontic (root canal) procedures, cosmetic and restorative dentistry. Building lasting relationships with our patients based on trust and integrity is a key to her success.
Dr. Neaves is bilingual and puts her Spanish to good use as she will never turn down the opportunity to participate in a Mission Trip. She has had the opportunity to travel to Mexico and Guatemala to render dental care to underserved areas of these countries.
When she is away from dentistry, you can find her cooking, sewing or scrapbooking. She also enjoys traveling and has had the opportunity to visit Egypt, Thailand, Greece, and The Holy Land.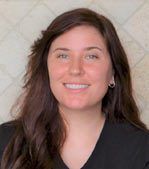 Dr. Lauren Samas
Please welcome Dr. Lauren Samas to our team of professionals! Dr. Samas is a North Texas native and a graduate of the top ranked University of Texas Health Science Center Dental School in San Antonio
Dr. Samas is passionate about dentistry and focuses on providing a comforting environment for her patients. Her goal is communicate effectively and to ensure patients feel they have a chance to discuss and understand their treatment. She is already a favorite of our patients and team members!
Dr. Samas is an active member of the Academy of General Dentistry and the American Dental Association – with the goal to keep up-to-date on new technology and methodology in order to give her patients the best care that they deserve. She especially enjoys cosmetic, restorative, and prosthodontic dentistry.
Her commitment to the community is second to none! Volunteering and giving back to the community are part of Dr. Samas's philosophy in dentistry, which includes her service to the Texas Mission of Mercy – focused on dental care for the underserved in the State of Texas.
Outside of practicing dentistry, she loves baking, drawing, and playing her flute. She also enjoys spending time with her best friend, twin sister, and her Siamese cat named Snickerdoodle.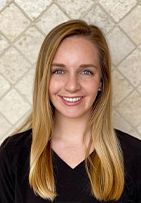 Dr. Leslie Tuggey
Our newest doctor has a familiar last name – Dr. Leslie Tuggey. Leslie is Dr. Jean's youngest daughter and a graduate from one of the top dental schools in the USA.
Dr. Leslie Tuggey's credentials:
Bachelor's of Science Degree, Texas A&M University – WHOOP!!!
Master's Degree in Biomedical Science, University of North Texas Health Science Center, Fort Worth
Doctorate of Dental Surgery, UT Health Science Center, San Antonio, School of Dentistry
Both Dr. Leslie and Dr. Jean Tuggey graduated from UT Health Science Center, San Antonio, almost 40 years apart (1985 and 2022). Watching her mom build one of the premier dental practices in the DFW Metroplex inspired Leslie to follow her footsteps into the family business. Watching her mom's passion for helping people motivated Leslie to choose a career in healthcare.
Dr. Leslie joined our practice in June, 2022 and has begun the process of learning from the master – her mother! After 4 decades in the field of dentistry, Dr. Jean will work side by side with Leslie for the foreseeable future – opening the door wider into an extraordinary career in oral healthcare. The first and most important lesson, and our mission statement from the beginning: Patient First!
For the next generation at this family-owned practice, our patients are in great hands!